HR and Talent Development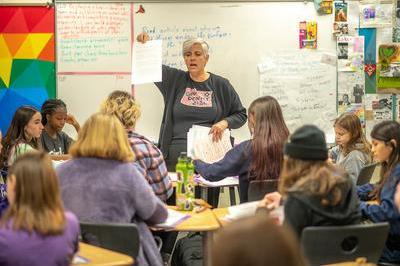 Putting People First
Human resources (HR) is an essential function in any organization, including charter schools. From recruiting, hiring, and retaining talented educators who are dedicated to your mission and values to legal compliance and succession planning, we offer resources and support in all things people related. By investing in a robust HR department, charter schools can support an engaged staff while nurturing a culture that makes them an employer of choice.
Whether you seek to implement effective employee training programs, foster continuous improvement, create and enforce fair and consistent policies, or promote a positive and harmonious work environment, we've got you covered. We can also offer referrals for vendors who can help you operate legally and efficiently from an HR standpoint.
---
Customized Training Packages
Cost: $175-$250 per hour
Your staff is one of your biggest assets. Investing in your approach to talent management might start with training in one of the following key areas:
Policy development and review
Succession Planning and Development
Diversity, Equity and Inclusion Strategy and Development
Employee Performance Management
Hiring strategy
Job fair consulting
Recruitment and retention planning and development including diverse recruitment
Interviewing best practices
Interviewing training for staff and/or board
---
Employee Handbook Review
Cost: $250 per hour | Typically 3-6 hours
Handbook policies require constant updating and enhancement. We will provide a comprehensive review of all handbook policies and make suggestions on those that require updating or are missing.
---
HR Policy & Practices Audit
Cost: $250 per hour | Typically 3-6 hours
We can review your internal HR or hiring practices for compliance and best practices. We can also review single policies and make recommendations for improvement or review your comprehensive policy manual.
---
Leader Search Coaching
Cost: $250 per hour
Searching for a new school leader is a large undertaking with big implications. Our coaching covers: job posting compliance review; benefits advertising review; development of an interview process, interview questions and scoring matrix; drafting of the job offer; and the creation of an onboarding plan.
---
We're Here to Help
In addition to HR and talent, the League also offers assistance in the areas of academic services, board and governance, enrollment and communications, exceptional education, facilities and finance, health and wellness, and new school development.
---
Free Member School Services
The League offers a wide-variety of free services to all member schools, including:
Ongoing access to information, best practices and crisis support.
Learning Communities that bring together peers from across the state to discuss current topics in specific areas, including board and governance, leadership, new school development, marketing and more.
A Resource Library with guidelines, samples, checklists, and on-demand webinars
Access to our Member Marketplace
Unlimited job postings on the League's website
League Staff Site Visits
Want to learn more? Email us today to start the conversation.