Exceptional Education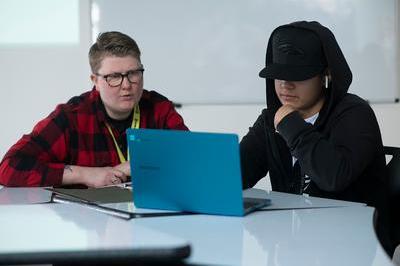 Supporting High-Quality Education for All
Utilizing their autonomy, charter schools have a unique opportunity to create a diverse and inclusive culture that values and celebrates the differences among students. This can include implementing culturally responsive teaching practices, fostering a welcoming environment, and promoting equity in educational opportunities. We focus on supporting member schools as they work to provide an exceptional education to the diverse learner populations within their classrooms.
From special education to talented and gifted to English language learners, every student deserves a high-quality education that meets them where they are. We not only partner with schools to increase support for these diverse learners, but also act as an advocate to address the systemic and structural barriers that limit a schools' ability to provide a high quality education to every student who walks through their doors. By prioritizing the needs of diverse learners and embracing their individuality, charter schools can create an inclusive and supportive educational environment that maximizes each student's potential.
---
Customized Training
Cost: $175-$250 per hour
Effectively serving diverse learners begins with developing and implementing programs and curricula that cater to the unique needs and learning styles of their students. By offering personalized instruction and individualized support, charter schools can address the specific challenges and strengths of each student. Sample training topics include:
Avoiding the Hidden Message: Maintaining High Expectations for our Diverse Learners
Universal by Design: Using the UDL Framework to plan for your Diverse Learners
Rethinking MTSS to increase Efficiency & Efficacy
Student Engagement: Is it more than Raising Hands?
Executive Functioning
Increasing Cognitive Lift for Diverse Learners
Quality Specialized Instruction
Writing Standards Aligned IEP Goals
---
Special Education Enrollment Reviews
Cost: Starting at $3,000
Schools receive a thorough picture of their programming strengths, gaps, and barriers that could be contributing to low special education enrollment numbers through the use of interviews, observations, a school website review, handbook and policies evaluation, and an examination of existing plans and data.
---
We're Here to Help
In addition to exceptional education, the League also offers assistance in the areas of academic services, board and governance, enrollment and communications, facilities and finance, health and wellness, HR and talent, and new school development.
---
Free Member School Services
The League offers a wide-variety of free services to all member schools, including:
Ongoing access to information, best practices and crisis support.
Learning Communities that bring together peers from across the state to discuss current topics in specific areas, including board and governance, leadership, new school development, marketing and more.
A Resource Library with guidelines, samples, checklists, and on-demand webinars
Access to our Member Marketplace
Unlimited job postings on the League's website
League Staff Site Visits
Want to learn more? Email us today to start the conversation.