Advocacy Day
February 1, 2024 | McNichols Building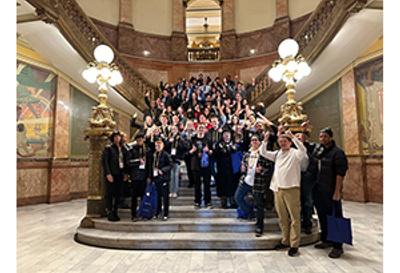 The League's annual Advocacy Day serves as a vibrant platform for the entire charter school community, encompassing visionary school leaders, dedicated educators, impassioned parents, motivated students, and engaged community members. Together, we unite to delve into the realm of impactful advocacy.
The heart of this event lies in equipping our community with optimal advocacy strategies, allowing us to translate our shared passion into effective action. As we engage with our legislative representatives, our collective aim remains steadfast: to empowerand advance our esteemed public charter schools.
Our 2023 event attracted 130 participants from fifteen different charter schools across the state. Amidst this diverse assembly, the true luminaries were our cherished students, dedicated staff, and devoted parents. Their voices resonated profoundly as they fearlessly shared their personal narratives of charter school advocacy with elected officials and the diligent legislative staff who shape policy.
Mark your calendars for February 1, 2024, a day poised to ignite inspiration and spark transformative conversations. Together, we'll continue to pave the way for a brighter future for charter education, armed with newfound insights and an unwavering commitment to advocacy.
---