Equity Convening
Equitable Access to School Choice: School Meals
Join us for the upcoming CDE's Schools of Choice Fall 2023 Equity Convening, focused on Equitable Access to School Choice: School Meals. Organized by the Colorado Department of Education (CDE) in partnership with the Colorado League of Charter Schools and the Colorado Association of Charter School Authorizers, we delve into the critical topic of providing equitable access to school meals for all students.
Wednesday, September 27 | 9:00 AM - 2:00 PM
Denver Place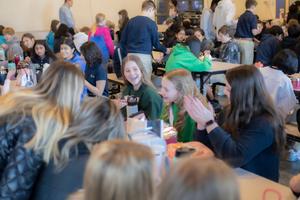 The provision of a food program that is accessible to all students is the cornerstone of ensuring that schools become a choice for every family. By offering inclusive food services, we eliminate barriers and open doors for families who might otherwise overlook schools that best cater to their child's needs. Moreover, nutrition and food service not only support school choice but also bolster student attendance, retention, and overall well-being, ultimately leading to stronger academic outcomes.
After passage of HB22-1414 in 2022, districts and schools are now implementing Healthy Meals for All. Join an expert panel for a discussion around early implementation successes and challenges, school year 2024-25 opportunities such as staff wage increases and incentives to purchase local foods, and recommendations for how to benefit from future food opportunities.
Panelists:
Rainey Wikstrom: League Wellness Consultant (Moderator)
Jenny Herman: State Nutrition Programs Manager at CDE School Nutrition Unit
Britton Knickerbocker: Executive Director of Charter Choice Collaborative
Ilene Agustin: School Nutrition Manager at the Charter School Institute
Jess Wright: Director of Healthy Food in Institutions at Nourish Colorado
The day also features two keynote speakers, local and national case studies, and workshops focused on actionable strategies and tools that you can implement in your educational setting to enhance school meals, nutrition education, and wellness programs for a healthier learning environment.