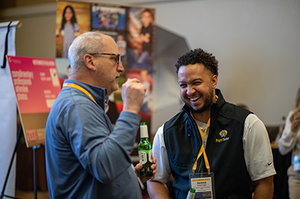 The 2024 Colorado Charter Schools Annual Conference is now open for Sponsor and Exhibitor purchases, set to take place on February 27 & 28, 2024, at the Denver Marriott Tech Center. Join us for this enriching event, and don't miss our special sponsor and VIP happy hour on the 26th.
As a sponsor and exhibitor, you'll have direct access to a vast network of over 10,000 school leaders, board members, business managers, administrative, and classroom staff from 268 charter schools, collectively serving 137,000 students across 70 communities in the state. Your participation is an opportunity to actively engage, support, and collaborate on solutions for our dedicated members committed to providing quality education. Your sponsorship not only contributes to the enrichment of knowledge and skills but also fosters crucial conversations and networking opportunities at the event. Additionally, your investment plays a vital role in enabling the League to continue providing essential services and resources to Colorado charter schools. For detailed sponsorship information, please refer to our 2024 Annual Conference Prospectus listed below.
*After purchasing a sponsorship, please make your way over to our Booth Selection Map For Sponsors and Exhibitors for an interactive selection experience.
​